Bienvenue!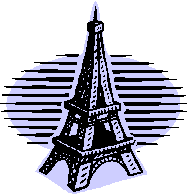 Welcome to the (most) official website for the Killara High 2001 trip to France. This site has been created by the students who went on the trip, independently of the school. It's where we've put our favourite memories from the trip, and where you can have a look at them.
OK, here's a quick run-down of what's on this site:
Mrs. Bird, this is a message for you from all of us. You made the trip SO special!!! It wouldn't have been the same without you. Thankyou for putting up with us for three weeks, for persevering through the bad, for making the trip worthwhile, and for being so devoted.

T H A N K Y O U
For those of you who are a bit confused about our trip, here's what happened. 13 of us were in France from Sept. 20 - Oct. 12. We spent the first 2 weeks in Paris, where we lived with host families in pairs, and went to the Accord Language School for 3 hours each morning Mon - Fri. While in Paris we saw all the major sights, including the Eiffel Tower, Notre Dame, the Arc De Triomphe, the Louvre and more. We also went out of Paris and saw the Palace of Versailles. We spent our last week touring the countryside. We visited the Chateau Chenonceau in the Loire, the town of La Rochelle, the beautiful Mont Saint Michel, and the Bayeux Tapestry. Before we left, we spent a day at Eurodisney.
We had a great time, learnt lots of French, and fell in love with the country.
Latest News:
| | |
| --- | --- |
| 23/10/01 | Help section has been up and running for a week now. We've been busy working on the gallery all week, and it's finally ready. As of now there are 82 photos online, so far only from Jeremy and David. We still need photos from everyone else to fill up the gallery. Once that's done we can start on the rest of the site. |
| 15/10/01 | The site has been under construction for 2 days now. We'll be optimistic and say everything will be online within 2 weeks. |
| 13/10/01 | Hi! This is the first news thing we're putting in. Just started the site today...looks gr8 already. |